The Spacecraft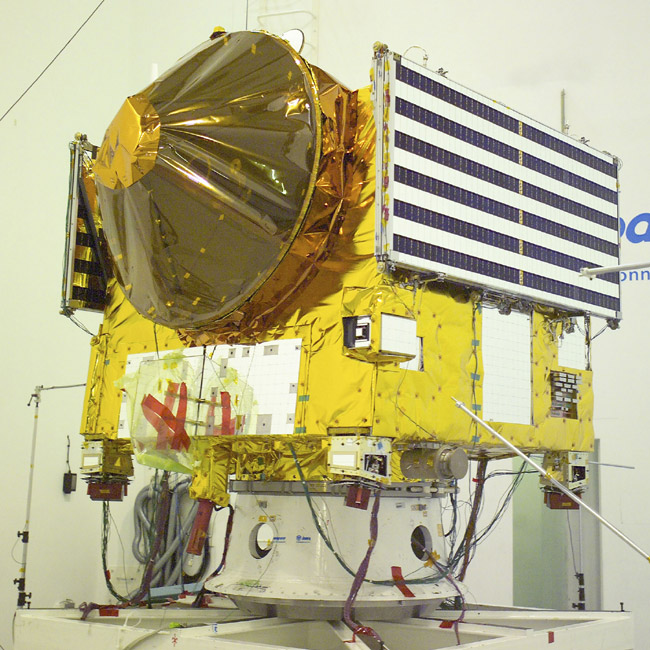 Minor modifications to the Mars Express spacecraft (smaller solar panels and HGA, thermal design)
Box-like structure 1.7 x 1.7 x1.4 meters
Max launch mass 1270 kg
Available solar power 800W @ Earth, 1370W @ Venus
3 x 24 Ah Li-Ion Batteries
Telemetry link 14-230 kbps
Mass memory 12 Gbit
400 N main engine, 2 x 4 x 10 N thrusters
The Instruments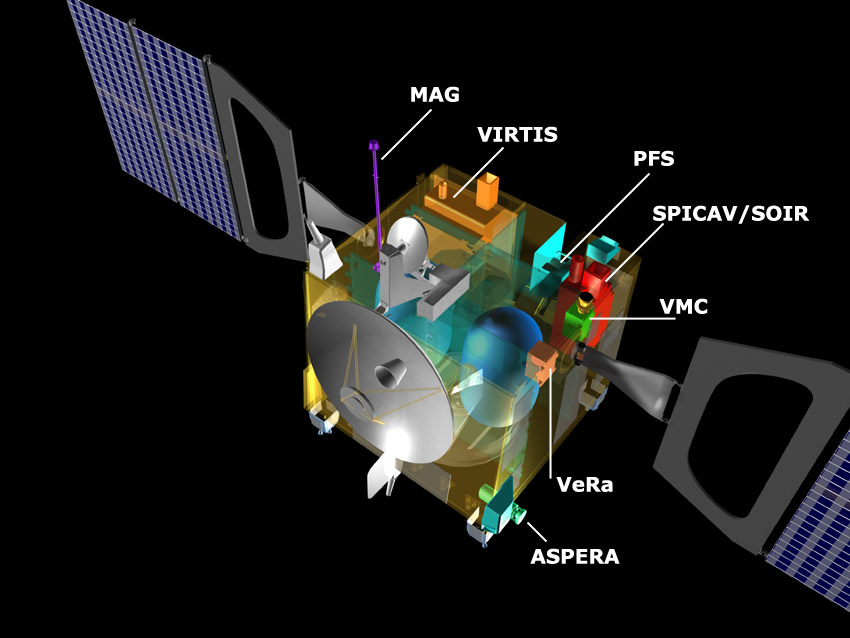 ASPERA-4
ASPERA (Analyser of Space Plasmas and Energetic Atoms) will investigate the interaction between Venus' atmosphere and the solar wind by measuring the outflow of particles from both.
MAG
MAG (a magnetometer) will measure Venus' magnetic field, induced by the interaction between the solar wind and the atmosphere. It will also help understand the effect of the magnetic field on the planet's atmosphere.
PFS
PFS( Planetary Fourier Spectrometer) will measure the temperature of the atmosphere between 55 and 100 km of altitude. It will also measure surface temperature, a possible indicator of volcanic activity, and measure the composition of the atmosphere.
SPICAV/SOIR
SPICAV (Spectroscopy for Investigation of Characteristics of the Atmosphere of Venus) will determine the density and temperature of the atmosphere between 80 and 180 km of altitude. It will also look for water, sulfur compounds, and oxygen molecules in the atmosphere.
VeRa
VeRa (Venus Radio Science) will investigate the ionosphere of Venus using the radio link between the VEX spacecraft and Earth. This will allow the study of density, temperature and pressure of the atmosphere at 35-100 km. It will also provide information about the solar wind in the inner Solar System.
VIRTIS
VIRTIS (Visible Infrared Thermal Imaging Spectrometer) will study the composition of the lower atmosphere below the cloud decks at 35-40 km. It will also track clouds at various altitudes in ultraviolet and infrared wavelengths to study atmospheric dynamics.
VMC
VMC (Venus Monitoring Camera) is a camera capable of taking pictures at near infrared, ultraviolet, and visible wavelengths simultaneously. It will be able to produce global images, study cloud dynamics, and image the surface. It will also assist other instruments in identifying phenomena.
Last Update: September 28, 2010